Please read everything carefully as I do have guidelines and rules for Commissions. It's to keep both myself and you as a customer - safe. It will also help get the commission to me faster if you read all of my guidelines. It saves a lot of time and trouble on my end.
PAYMENTS & REFUNDS
I only use Paypal for the time being until I have other means to recieve payment. I will not do money orders or any other payment method.
Refunds are only guaranteed if I haven't already started the lineart progress. You may not request a refund if I've already started the lineart.
I require full payment first. If you cannot afford my commissions, then please do not buy from me.
If for some reason I cannot finish the image, you're welcome to keep it after refund.


TERMS OF SERVICE
You may not resell my artwork. Please do not remove any of my watermarks or my signatures.
You may use what you buy for personal use, but ask permission if you decide to upload my art onto any social media. Please give credit.
Let me know if my artwork is being used for a future adoption oc. That is on the line of reselling my artwork if the art is being sold with the character.
You may print my artwork for personal needs - such as a poster for example.

ORIGINAL CHARACTERS



If you plan to request me to draw OCs, be sure that they have a reference sheet or at least some sort of visual.
Make sure the reference sheet is readable and clear to understand.
Heavy details on an OC may increase the cost of your commission. I will let you know.
If you plan to have a friend's OC involved, let me know that it is a friend's OC.



Please respect my terms and guidelines. If you do, then great! Because I refuse to change something unless it's to better fit my schedule and make it easier on myself and the customer.



WHAT I WILL DRAW

Fandoms: Megaman (All), Pokemon, Undertale, XZero.
Anime (But ask first)
Mild Gore (Nothing too graphic)
Shipping (Legal shipping. No pedos, zoos, etc.)
OCs (Provide Ref please)
Fantasy (Dragons, Fairies, Elves.)
Soft NSFW
Furries / Animals

WHAT I WILL NOT DRAW

Realism (People, places, etc.)
Politics, religion
Fetish Art (Vore, Inflation, etc.)
Reference Sheets. I just suck at them.
Comic Pages. They take way too long.
Hardcore NSFW

[ PLEASE CHECK GALLERY FOR ART EXAMPLES! ]





COMMISSION PRICES

Please click on the images to full view. Make sure to check each image carefully.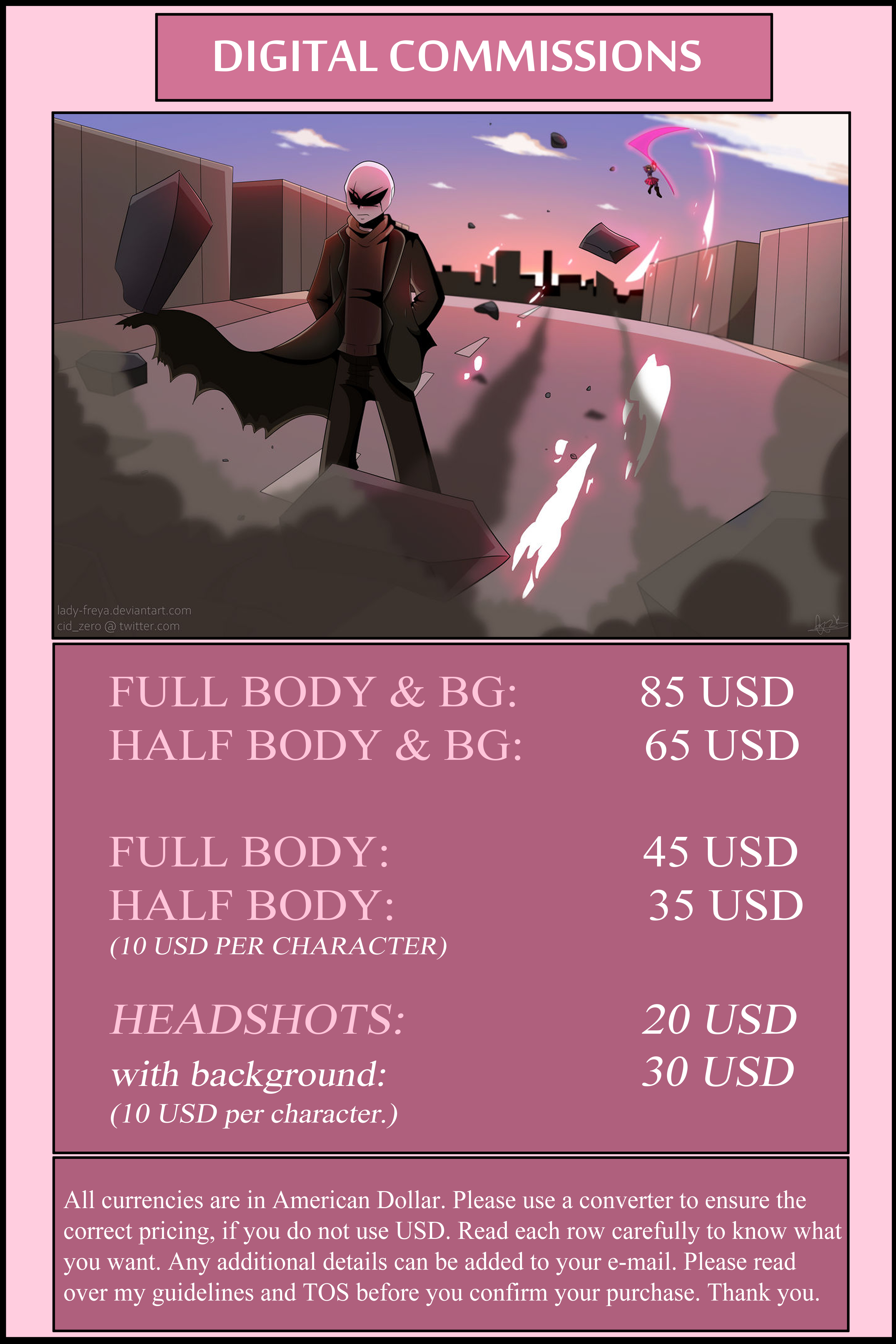 PHONE ART COMMISSIONS
Keep in mind, these prices go by the amount of detail I put into my phone art. There are examples in my gallery. These make great icons, pfps, or emoji sets. Limit TWO characters in one, but highly suggested to stick to one character for these.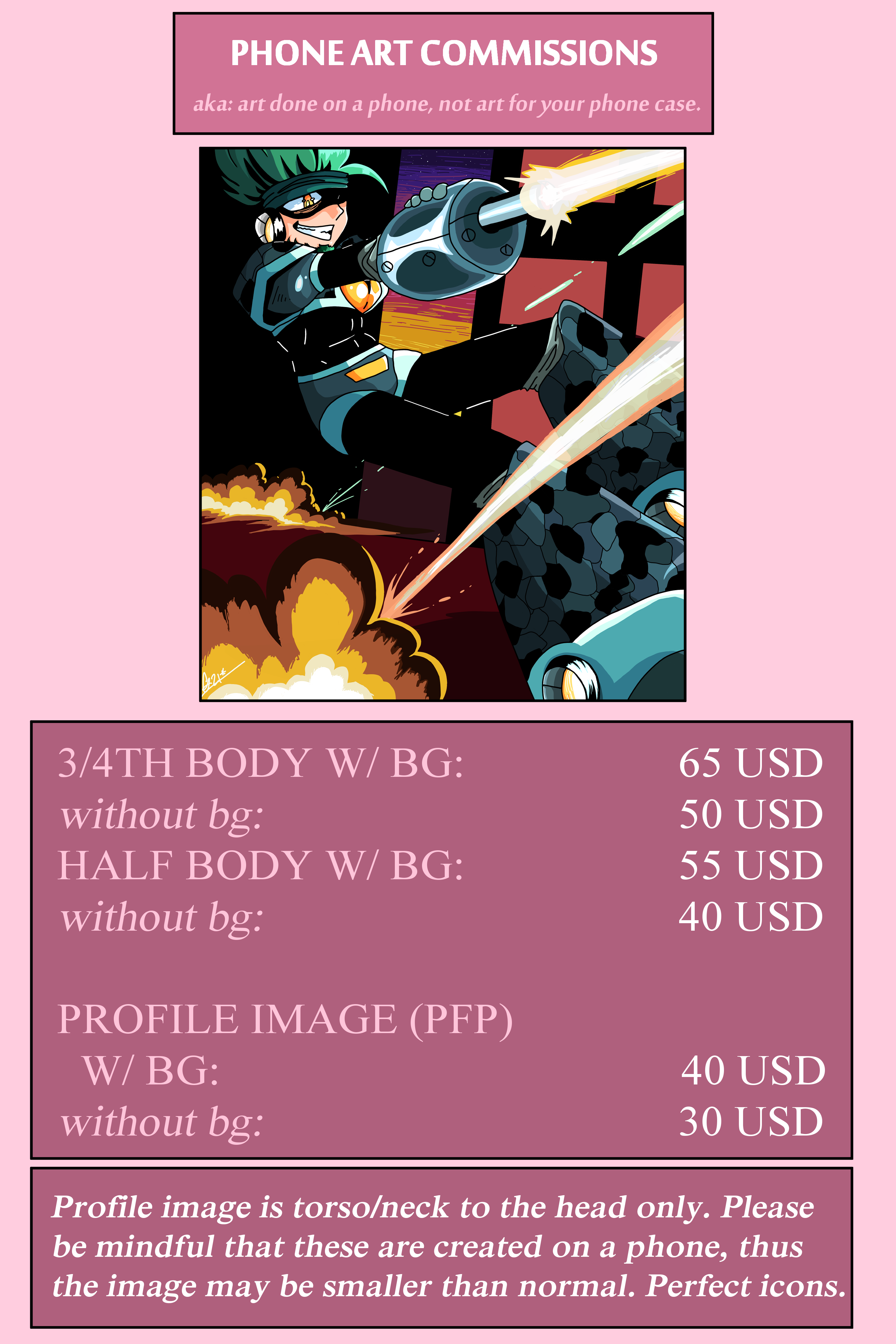 TRADITIONAL ART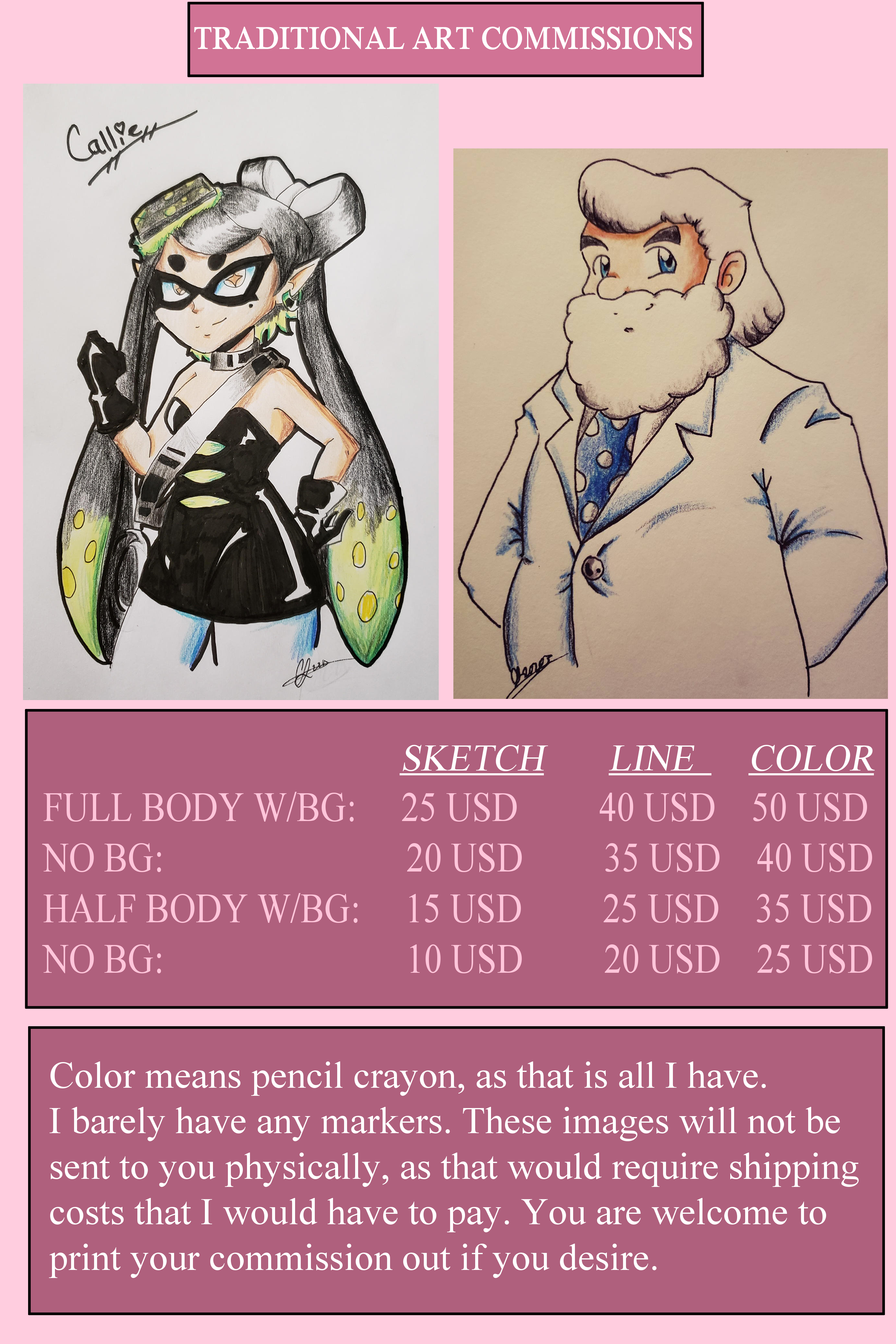 CONTACT ME!
Commissions: OPEN!
If you know what you want for a commission, then feel free to contact me. I will require specific information:
Character(s) involved. Including their reference sheets.
Poses and details. If you'd like, provide a reference of the poses involved.
Medium: Digital, Traditional, Phone.
Please include any additional information that is required for the commission.
Do not give me payment until I've AGREED to do the commission!
Keep in mind that I use PAYPAL.
I will give other means to contact me if e-mail isn't enough. I have Discord, but I refuse to give that out publicly.